Live Operations¶
You've heard about live operations many times and may think you know everything about it. Yet when you try to define the term, it turns out to be vague and includes everything from in-game events and promotional sales to support and community work.
LiveOps strategies help games become living and evolving organisms versus the 'create – release – start a new project' approach. When you run a game as a service, the release date is the beginning of a new life. Like a new organism, your game is evolving, keeping players constantly coming back for more fun and unique experiences.
Let's define LiveOps the following way: they are changes and updates you bring into the game after the release date to engage your players, create long-term relationships with them, and improve the LTV of your game.
Here are some examples of what LiveOps can be:
✅ Adding a skimming pricing* strategy in your shop
✅ Adjusting the frequency of ads to various segments of players
✅ Decorating a game for St. Valentine's Day and adding new festive skins
✅ Promoting your in-game tournament on social media, where your community gathers
❌ Bug fixes and app productivity optimization

*Skimming pricing initially sets a relatively high price for an offer and subsequently lowers it over time.

The most common and proven combination for your LiveOps strategy is combining in-game events and promotional sales. Sales are usually coupled with Events to create urgency to buy. You can make a time-limited Black Friday sale with huge discounts or start selling new winter skins around Christmas as a part of your winter in-game season.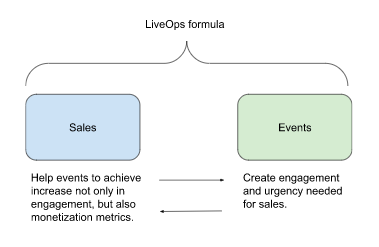 How to start¶
First of all, you need to install or update LiveOps package.

Watch the video, which shows core LiveOps features: